There is nothing to display at this time
CBC Curio Platform Update
As of Monday June 27, 2022, individual accounts and playlists will not transfer over to the new CBC Curio platform. Personal email addresses will no longer be accepted due to privacy reasons. Members can continue to access, view and enjoy the content with a Hamilton Public Library card at the new site.
Publish Date:
Monday, June 13, 2022 - 8:45am
Power of the Pen Creative Writing Contest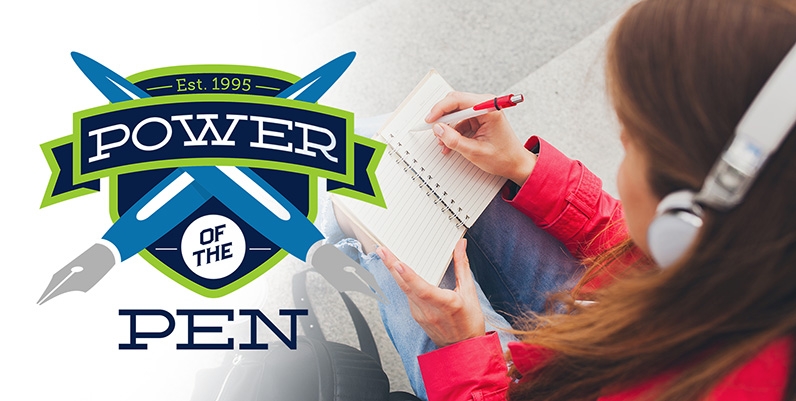 The 28th Power of the Pen writing competition invites writers ages 12-18, to submit original poetry and short stories in both English and/or French. Prizes are awarded for 1st and 2nd place in each of the seven age groups, in poetry and short story. Digital submissions are encouraged.
Categories:
Participants can enter poems and short stories in English and French:
English - Please submit one poem and/or short story per person in the English category. Each entry is placed in one age group at the time of entry (Age 12 poetry, Age 12 short story, Age 13 poetry, etc.)
French - Please submit one poem and/or short story in the French category.
Prizes:
Entries for each category are judged by either a published writer, teacher, or reviewer. Entries are evaluated for originality, style, and general presentation, as well as spelling and grammar. A 1st- and 2nd-prize winner is chosen in each of the seven age categories (12-18) in poetry and short story.
French entries are judged in poetry and short story categories. A 1st and 2nd prize is offered in each category.
Each entry also qualifies for the Hamilton Association for the Advancement of Literature, Science and Art Maitland Banting Silver Quill award and Young Poet award. The winner in each category receives $250.
*French entries are not included in the HAALSA prize selection.
First prize winners in each age category receive $100 and 2nd prize winners in each age category receive $25. All award winners receive a certificate and a copy of the Power of the Pen publication.
How to Enter:
This year's competition opens in early June. The deadline for submissions is Friday September 30, 2022.
Winners are notified in December 2022. Winners who have submitted a hard copy of their entry should also provide a digital copy of their winning submission for publication and posting.
For more information, please email Carly Bedford at cbedford@hpl.ca and Patrick Fazari at pfazari@hpl.ca.
Note to Teachers:
If you are submitting a short story or poem on behalf of a student, please ensure each written submission is accompanied by a completed official entry form.