There is nothing to display at this time
There is nothing to display at this time
Hamilton Reads 2021 - Blaze Island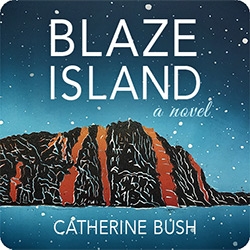 Miranda lives on a small island in Newfoundland with her father Milan/Alan, a weather scientist living in hiding. When a stranger washes up on their doorstep during a Category 5 hurricane, her world is forever altered. A compelling retelling of Shakespeare's The Tempest, Blaze Island is a timely story about environmentalism and community.
"Riveting and morally complex, Blaze Island is a beautiful, kaleidoscopic work that offers a resounding reply to the question of how literature might wrestle with the deepest threat facing the planet, anthropogenic climate change. In the absence of saviours and easy consolation, what Bush has created is an allegory of hubris and humility and an exhilarating space in which to re-imagine multi-species relationships and stories."
— Kyo Maclear, author of Birds Art Life
---

Place a hold on a physical book or an eBook.

Join a book club to discuss Blaze Island or The Tempest.
Recommendations and read-a-likes